' Unique and Colourful Music Education'​
The
Painted
Piano ​

​
Music Studio -- Sooke, B.C.​

​
Kathy Russell, B.Mus, M.Mus
Kathy Russell (Koch) received her Bachelor's and Master's Degrees in Piano Performance from the University of Victoria, studying primarily with ​Bruce Vogt. She is the recipient of innumerable scholarships, most notably the 'Clarke Horning Memorial Prize' (awarded to the most promising performance graduate), the 'Dean's Scholarship', and on two occasions the
​'Johann Strauss Foundation Scholarship' for studies at the Hochschule Mozarteum in Salzburg, Austria. During her six years of post-secondary study, Kathy worked in lessons and masterclasses with artists including ​Bernd Glemser, ​
​Luba Edlina-Dubinsky, Claude Helffer, ​Riccardo Risaliti, ​
​Robin Wood, ​Kathleen Supove, Aurora Dokken,
​Christoph Lieske, Diana Lawton, and Stéphane Lemelin.

Kathy has enjoyed great success at the piano, performing in Canada, the United States, and in Europe. Her classical repertoire spans from Bach to present day with an affinity for Scarlatti, Schubert, Liszt, Bartók, and German Lieder.
​She enjoys all genres of music, however, and is equally at home performing popular, folk, rock, and jazz arrangements. Kathy has been featured many times on local television and radio in performances as ​soloist and accompanist.

Kathy resides in Sooke with her husband Kevin ​and
​young son Konnor. She has a great love for nature and the outdoors; when not at the piano she can often be found in her garden. ​The Russell family spends their time camping, hiking, motorcycling, and enjoying the beauty of
​Vancouver Island.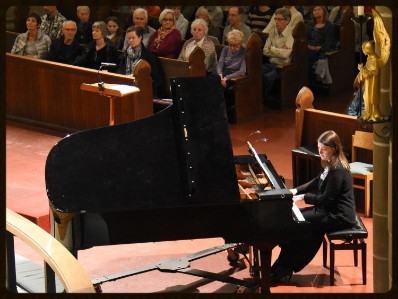 - courtesy Jack Most Photography